Rondol Industrie has signed a five-year collaborative agreement with world-leading material sciences company Arkema and Concordia University in Canada. The partnership between the three entities promises to stimulate progress in the battery industry, as the use of renewable energy in society continues to increase.
The partners are combining efforts to explore the benefits of an emerging extrusion process named PEXBASO. The project focuses on the production of innovative rechargeable battery components and has been designed to meet the rising demands for sustainable and new materials.
This comes at a time when the challenges of resource scarcity, urbanization and mobility are more pressing than ever.
"Concordia is at the forefront of electrification and our team is excited to contribute our expertise to this initiative," says Concordia President Graham Carr. "We believe that this collaboration will further strengthen our ongoing commitment to creating a sustainable future, putting another spotlight on France-Quebec collaboration in novel areas of green technology, aligned with the 2023 France-Quebec Year of Innovation."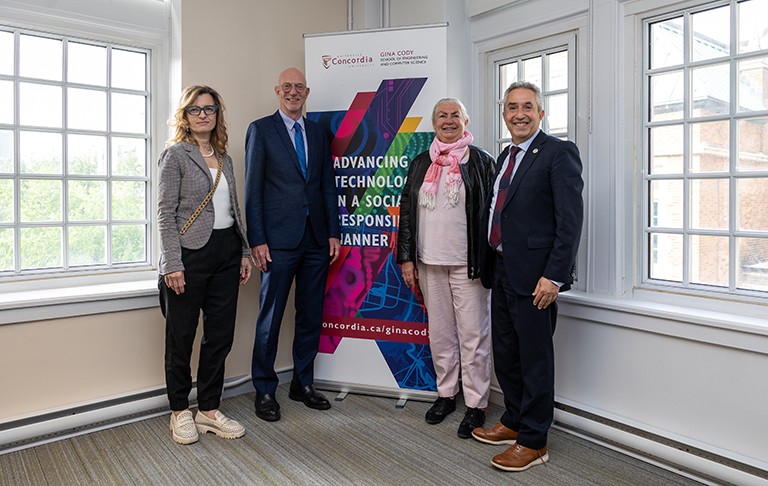 From left: Dominique Bérubé, vice-president of research and graduate studies, Concordia President Graham Carr, Victoire de Margerie, Rondol executive chairman, and Karim Zaghib, Canada First Research Excellence Fund Electrifying Society chief executive officer. | Photo by Julian Haber
Research and training activities
A major player in the field of material sciences, ARKEMA is a worldwide leader in specialty materials.
"We're eager to combine forces with the exceptional researchers at Concordia. Our strengths in material sciences will help create the synergy needed to achieve our desired outcomes collectively," says Armand Ajdari, Chief Technology Officer at Arkema.
"Through this partnership, we are pleased to extend our global network of high-level academic collaborations. We are keen to share and extend our large palette of materials and our expertise in battery technologies to make this partnership a success."
Victoire de Margerie is executive chairman of Rondol. "Our proficiency in extrusion technology is a significant asset to this partnership," she notes. "We're ready to harness our expertise and contribute to this collaborative effort for the development of innovative battery components."
This partnership has also set sights on empowering talent in battery-related disciplines.
Alongside technical innovation, the collaboration will provide opportunities for research and cooperative training. The broad range of activities includes joint research projects, researcher exchanges and joint scientific and industrial activities.